Beautiful Old Souls
[Excerpt from Parenting Jesus, the Gentle Parent: Gentle Christian Parenting by L.R.Knost. Two Thousand Kisses a Day: Gentle Parenting Through the Ages and Stages, Whispers Through Time: Communication Through the Ages and Stages of Childhood, and The Gentle Parent: Positive, Practical, Effective Discipline also available on Amazon and through other major retailers]
~~~~~~~~~~~~~~~~~~~~~
An aged beauty tips her face up, and her elderly companion leans down out of life-long habit to catch her soft voice. His old eyes see past the ever-deepening lines to the vision of youth he married decades earlier. His hands reach out to steady her fragile, but oh-so-familiar frame, and she smiles the same smile he's woken up to and kissed goodnight his entire adult life. Theirs is an old love, subtle with wear, ripe with age, its rich beauty lost to those without the palate to plumb its boundless depths or the senses to delight in its warm bouquet. They are a living love story, two hearts time-stitched into one, beautiful old souls stepping in tandem toward eternity.
Truly, love does have many seasons and faces, each revealing its own power, its own purpose…
Young love shouts from the rooftops and expresses itself in passionate displays. Its flames are brilliant, stoked with newness and fueled with idealism, but at times it burns itself out with its own heat or through lack of care and tending.
Old love whispers quietly, "I'm here. No matter what, I'm always here." It is a silent glance, a hand clasp, a timeless commitment.
Young love, blind to the rich time-tested tapestry, deaf to the wealth of meaning in quiet companionship, lost to the supple oneness of hearts in accord, often looks at old love and calls it dead.
Old love sometimes looks at young love and smiles with fond remembrance, but ofttimes shakes its head and declares it foolish.
Each has a place in the world, a purpose, a time, and a season.
And then there are the other faces of love…
The exhausted young mother tenderly cradling a brand new life in the early morning hours. The
middle-aged man getting up at four o'clock in the morning for another backbreaking day of work to support his family. The teacher spending her meager pay to make sure her students have pencils. The pastor visiting a convicted felon just to play a game of cards. The teenager stopping to help a stranger push their stalled car to the side of the road…
Each speaks love in a different language, but the message is the same…love is alive.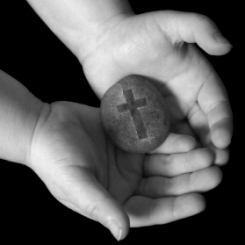 There is another Love, a living, breathing, timeless, endless, lavish, inconceivable, unconditional, sacrificial, unlikely Love. His Name is Love because He is Love. He and I have an old love, a stalwart and enduring love, a time-tested, unraveled and rewoven, wounded and healed, shattered and renewed love.
In the beginning, when I was newly in love with my Love, His passion fueled mine and I was consumed. I flared white-hot and brandished His Name like a sword, intent on conquering the world all on my own and presenting it as a treasure to my Love. I scorned the quiet love of my elders as a burned-out relic, not fit for my King.
Then time passed and life happened. My Love clung to me fiercely through the storms, even as my own grasp weakened and slipped. My Love held me close in the dark and never let go even when I kicked and flailed and railed at Him because I couldn't see Him through my tears.
And my young love grew into an old love, deep and rich and still. Our old love is a stunning tapestry of life and loss, triumph and tragedy, joy and heartache, woven from the tattered and torn remnants of our young love.
Now, in place of conquering the world, I let Him love the world through me. Instead of proselytizing, evangelizing, and sermonizing for my King, I let His love permeate all I do like the subtle fragrance of rain as it washes clean the earth. Rather than feverishly working to present My Love a treasure, I bask in His presence knowing I am His treasure.
And our beautiful old souls step lightly toward eternity…
To Everything…Turn, Turn, Turn
There is a season…Turn, Turn, Turn
And a time to every purpose, under Heaven
A time to be born, a time to die
A time to plant, a time to reap
A time to kill, a time to heal
A time to laugh, a time to weep
To Everything…Turn, Turn, Turn
There is a season…Turn, Turn, Turn
And a time to every purpose, under Heaven
A time to build up, a time to break down
A time to dance, a time to mourn
A time to cast away stones, a time to gather stones together
To Everything…Turn, Turn, Turn
There is a season…Turn, Turn, Turn
And a time to every purpose, under Heaven
A time of love, a time of hate
A time of war, a time of peace
A time you may embrace, a time to refrain from embracing
To Everything…Turn, Turn, Turn
There is a season…Turn, Turn, Turn
And a time to every purpose, under Heaven
A time to gain, a time to lose
A time to rend, a time to sew
A time for love, a time for hate
A time for peace, I swear it's not too late
Related posts:
The Story of Us~25 Years and Counting!
Spare the Rod: The Heart of the Matter
Motherhood~The Timeless Tapestry
Award-winnning author, L.R.Knost, is the founder and director of the children's rights advocacy and family consulting group, Little Hearts/Gentle Parenting Resources, and Editor-in-Chief of Holistic Parenting Magazine. Books by L.R.Knost include Whispers Through Time: Communication Through the Ages and Stages of Childhood ; Two Thousand Kisses a Day: Gentle Parenting Through the Ages and Stages ; The Gentle Parent: Positive, Practical, Effective Discipline ; and Jesus, the Gentle Parent: Gentle Christian Parenting the first four books in the Little Hearts Handbook gentle parenting series, and children's picture books Petey's Listening Ears and the soon-to-be-released Grumpykins series.